Act Belong Commit Our Opera Our WA
March 24 - FREE Livestream
REGISTER HERE
Suitable Years 4 - 12
Running Time 50 – 60 minutes
FOR THE FIRST TIME EVER WE ARE LIVESTREAMING OUR PERFORMANCE WORKSHOPS INTO YOUR CLASSROOM!
Our Act Belong Commit Opera in Education Team are looking forward to sharing our songs and stories with students across the state.
Join us on Thursday, March 24 as we present ACT BELONG COMMIT OUR OPERA OUR WA live from our studio and into your classroom for FREE.
Simply Register HERE to join us.
Performance times are 9.30am and 11.00am
ABOUT THE FREE PERFORMANCE WORKSHOP
Two singers and a pianist will share their stories in an intimate musical journey of their life. Why did they begin singing? What is their cultural background? Who are their hero's? What led them to opera? How do they interpret the many works they are expected to learn? Featuring popular repertoire sung in different languages and lots of surprises we invite you to discover our stories and share yours.
Works to be performed include:
LARGO AL FACTOTEM – The Barber of Seville (Rossini)
LA VIE EN ROSE – made famous by Edith Piaf
WANJOO – Gina Williams and Guy Ghouse
PAPAGENA/PAPAGENO DUET – The Magic Flute (Mozart)
TOREADOR – Carmen (Bizet)
Wanjoo is being performed with permission by Gina Williams and Guy Ghouse who worked with our artists in order to share this work with others http://www.ginawilliams.com.au/about-us.html
CURRICULUM OUTCOMES
This incursion supports the West Australian Music Curriculum with particular attention to "Consideration of cultural, social and ethical issues, comparing and evaluating audience response and performer roles across a broad range of music in formal, informal, virtual and interactive settings"
This will be professionally streamed and suited to students from year 3 and above with a live chat box so you can ask our artists questions.
We hope you can join us!
"I wanted to listen to more!"
— Year 5 student
You might also be interested in...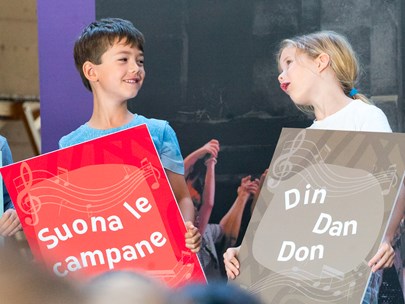 Your voice is your own mobile instrument so let's have some fun and Sing Out Loud!
More info